We have all heard more than enough about COVID-19 by now. However, the challenges that crashed on our shores with the pandemic taught me a great deal about adaptation, letting go of what is out of my control, and trusting the scientific research process. A large part of what compelled me to apply for the Virginia Sea Grant and Northeast Fisheries Science Center (NEFSC) Graduate Aquaculture Fellowship was the promise of visiting the NEFSC Milford Lab in Milford, Connecticut. I wanted to meet the influential scientists that work there in person to see what their daily jobs entail, learn from their experiences, and expand my professional network. I was excited to get out in the field, travel to a new place, and shake the hands of the aquaculturists and fishers of the Northeast. When each of these anticipated events was no longer an option, I was pushed to be creative and find ways to maximize my fellowship experience. And so, I adapted.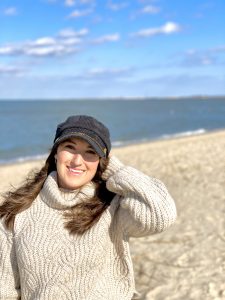 Instead of meeting those who work for the National Oceanic and Atmospheric Administration (NOAA) in person, I virtually met with the empathetic staff who took time out of their busy schedules to meet me for "coffee chats." Through these virtual meetings, they made me feel like part of the Milford Lab and shared their career journeys with me. They offered advice on applying to federal jobs; working in the marine, offshore wind, and fisheries industries; and conducting research. Each kind soul I spoke with referred me to someone else who shared their wisdom and the contact of yet another person to connect with to keep the wave going. I was even invited to present and lead a discussion about my research during one of the NOAA Greater Atlantic Region Aquaculture Team's monthly meetings. I gained a lot of insight about how to refine my research from their feedback. Through these experiences, I soon developed a large web of professionals I could aspire to be. I was so overwhelmed with the kindness of strangers that I forgot I was missing out at all. They inspired me to find other virtual ways to enjoy my fellowship, which led me to attend many virtual conferences, classes, and happy hours in my free time.
Free time. I had a lot of unanticipated free time during my fellowship. This free time did not only come from the lack of ability to travel, but also from obstructions in my research plan. I think many researchers and academics alike know that grant-funded research does not come without unexpected hurdles. When circumstances beyond my control put me about six months behind schedule, I was forced to let go of what I could not control and focus on completing what I could. COVID-19 taught me a lot about finding creative solutions, and that no matter how organized I am, to always account for the unexpected. In a virtual world, I have to be persistent and innovative to make sure my research is (even slowly) moving forward. I had to accept that I may not graduate on time because of my setbacks and appreciate the elongated education process for what it is — more time to learn, develop new skills, and refine my master's thesis.
Through mentorship provided by Dr. Lisa Milke from the Milford Lab, I learned to accept unanticipated changes in my research plan as an overall improvement to my research. That in a quickly developing industry like offshore wind, new information is power, even if it means I'd have to take a few steps back to find a new path forward. I was not fully aware of how frequently that happens throughout the academic research process. Even when I thought I was too far along to change the direction of my research, with discovery of new information, incorporating it was the only way my research would make impactful contributions to the industry. The Coastal Virginia Offshore Wind farm is a pioneer project in terms of global offshore wind generation. Attaching my master's thesis to an evolving industry and a construction project in progress resulted in a constant cycle of new information. That new information came in many forms. At times, the layout and construction plan of the wind farm would change; other times, I would find out new offshore policy circumstances that change how I frame my research.
I venture to say that COVID-19 taught many of us that this is the process every scientist must go through, whether you are trying to contain a global pandemic or study the public willingness to pay for co-location of marine activities with offshore wind farms. I think the purpose of scientific research can be simplified to doing your best with the information available to achieve the ultimate goal: discovering something new.
Overall, I learned to relish in the small steps forward and to be grateful for each step along the way. I slowly discovered that a delayed timeline doesn't constitute failure as long as I am doing everything in my power to keep moving forward. I just have to remember that we are all just riding the waves as they come, and "success is what you do with what you've got" (Woody Hayes).
Shannon Fluharty is an Agricultural and Applied Economics Master's Student at Virginia Tech conducting willingness-to-pay research on coupling aquaculture and other marine activities with the Coastal Virginia Offshore Wind Farm.
Published Feb. 9, 2021.