Important COVID-19 Resources for Virginia's Fisheries, Aquaculture,
and Charter Boat Industries
Updated OCTOBER 7, 2020. For questions specific to COVID-19 resources and impacts to fisheries and aquaculture, please send an email to covidquestions@vims.edu.
FEDERAL GOVERNMENT RESOURCES
---
ASSISTANCE FOR SMALL BUSINESS
U.S. Small Business Administration Disaster Loans
Federal Disaster Loans for Businesses, Private Nonprofits, Homeowners, and Renters.
Coronavirus Relief Options are available from the SBA.
The Paycheck Protection Program
The Paycheck Protection Program prioritizes millions of Americans employed by small businesses by authorizing up to $349 billion toward job retention and certain other expenses.
Small businesses and eligible nonprofit organizations, Veterans organizations, and Tribal businesses described in the Small Business Act, as well as individuals who are self-employed or are independent contractors, are eligible if they also meet program size standards.
For a top-line overview of the program CLICK HERE
If you're a lender, more information can be found HERE
If you're a borrower, more information can be found HERE
The application for borrowers can be found HERE
ASSISTANCE FOR AMERICAN WORKERS AND FAMILIES
In the weeks immediately after the passage of the CARES Act, Americans will see fast and direct relief in the form of Economic Impact Payments. For more information, CLICK HERE.
NATIONAL SEA GRANT
Seafood Information and Resources
NATIONAL SEA GRANT LAW CENTER COVID RESOURCES

Unemployment Benefits
The additional $600 unemployment benefit provided by the CARES Act will expire at the end of July. Other expanded unemployment provisions in the Act will continue through the end of the year. Here's an overview of the programs: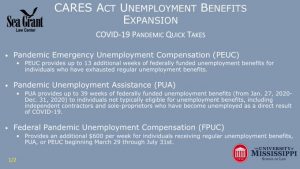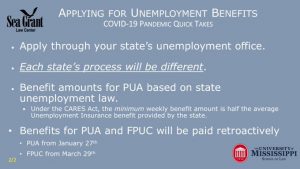 PPP Loan Forgiveness
The National Sea Grant Law Center has drafted a tip sheet on PPP loan forgiveness. 
CARES Act Tip Sheet for Self Employed Individuals
Fisheries, Aquaculture, and Seafood Businesses Webinar
** April 8 CARES Act 101 for Fisheries, Aquaculture, and Seafood Businesses Webinar
This webinar includes several scenarios and how different plans would work in these cases – really helpful.
AQUACULTURE FARM FINANCIAL MANAGEMENT DURING THE PANDEMIC WEBINAR (NAA/NOAA SG)
Download the webinar handout PDF
Webinar recording (file size is large so this will take time to load – 520 mb) https://1drv.ms/v/s!AoIuN1dc6Z60iYZR5lSBS8miCSUCQg?e=cXUK75
U.S. DEPARTMENT OF AGRICULTURE
USDA PROVIDING ADDITIONAL PANDEMIC-RELATED DIRECT ASSISTANCE
Additional aquaculture crops are now eligible for CFAP2 economic assistance. Applications can be submitted beginning September 21 – December 11, 2020.
STATE GOVERNMENT RESOURCES
---
VIRGINIA MARINE RESOURCES COMMISSION
Virginia received $4,520,475 for assistance for the fishing industries impacted by the COVID-19 Pandemic. VMRC has developed a spending plan that must be approved by NOAA prior to the distribution of funds. After reviewing the draft plan, please complete this survey with your comments.
Coronavirus (COVID-19) in Virginia: State Government updates on emergency measures, closures and assistance for small business.
Virginia Department of Health COVID-19: Personal health and safety resources & up-to-date listing of Virginia COVID -19 cases.
Virginia Small Business Development Center:  
How to apply for financial assistance
Help with loan preparation
What to know about unemployment
CDC interim guidance to prevent workplace exposure
Video on how to fill out the SBA disaster loan step by step
The Small Business Owner's Guide to the CARES Act 
EMERGENCY UNEMPLOYMENT INSURANCE:  
The CARES Act increases the weekly benefit by $600 for up to four months and expands coverage to 39 weeks including more types of employees (part-time, self- employed, and gig economy workers). Individuals can file through the Virginia Employment Commission at http://www.vec.virginia.gov/. 
VIRGINIA TECH – VIRGINIA SEAFOOD AGRICULTURAL RESEARCH AND EXTENSION CENTER
U.S. Aquaculture COVID-19 Impacts Q3 Survey
Aquafarms and related businesses are asked to participate. Please complete the survey by October 23, 2020. Previous survey results can be found on the VSAREC website.
INDUSTRY ASSOCIATIONS
---
National Aquaculture Association
East Coast Shellfish Growers Association
Oyster South
US Aquaculture Society COVID-19 Resources 
ONLINE SALES PLATFORMS FOR FARMERS
---
Barn2Door | Cropolis | Farmigo | Food4aAll | Harvie | Local Food Marketplace | Local Line
For certified dealers that want to pivot to direct customer sales but don't have ready access to an online sales platform.
USING ONLINE PLATFORMS TO SELL LOCALLY PRODUCED FOODS TO CONSUMERS WEBINAR
Christie Welch/OSU Extension Direct Marketing Team
Watch Replay
Resources/Links
FARM CREDIT EAST
---
FARM CREDIT EAST COVID RESOURCES
Paycheck Protection Program: Insight into program basics and how your business may qualify
What the tax and payroll provisions of the Families First Coronavirus Response Act & CARES Act mean for your business
COVID & SEAFOOD SAFETY
---
The Virginia Tech – Virginia Seafood AREC has identified some links and resources that may be of interest to the seafood Industry and other food industries with information pertaining to COVID-19 and food safety.
HEALTH & WELLNESS
---
5 Things You Should Know About Stress National Institute of Mental Health tips on stress and how to manage it.
National Suicide Prevention Lifeline and the Crisis Text Line have trained counselors who are ready to listen. If you would like to talk to someone related to COVID-19, call the National Suicide Prevention Line: 1-800-273-8255, or text the word SHARE to 741741.
CHARTERBOAT RESOURCES
---
The National Association of Charterboat Operators' membership includes marine charters who provide fishing, sailing, diving, eco-tours, and other excursion vessels who carry passengers for hire.
VIRGINIA MARINE RESOURCES COMMISSION
REQUIREMENTS FOR FOR-HIRE FISHING VESSELS TO OPERATE DURING COVID-19 
EFFECTIVE MAY 15, 2020 UNTIL FURTHER NOTICE