Above: Andrew shows off his most difficult catch on the Dan River, a blue catfish.

---
Commonwealth Fellow Andrew Kirk blogs for us about his experiences and growth in the Virginia Department of  Environmental Quality (DEQ). Kirk earned his Master's in Biology at the Virginia Commonwealth University in 2016. and was partnered with the DEQ to work on polychlorinated biphenyls in water supply planning and the James River.
I practically failed my sophomore year of college. I am not talking about getting a "D" one semester and missing the dean's list. I mean being put on academic probation and left staring at a ceiling wondering "What am I even doing?" But I scratched and clawed my way back to a respectable GPA and eventually into graduate school. That is the initial reason why it meant so much to me to become an inaugural Commonwealth Coastal & Marine Policy Fellow. It validated my efforts—I would not be defined by my past. Following that, quite quickly the true benefits of the fellowship overshadowed the validation I sought.
The fellowship developed in me an incredible characteristic, one I didn't even know I was missing… through the fellowship I found confidence. I am now confident tackling subjects outside of my wheelhouse. I ask questions without worrying that they might make me appear less of a scientist or even a person. I present ideas knowing they have merit. And I am assured that wherever my career takes me and whatever position I am, it will have significant impacts. And making significant impacts is what the Commonwealth Fellowship is about.
It partners post-graduate students with state agencies and non-government organizations in a symbiotic relationship. Students have a chance to hone newfound skills and explore unknown avenues, while the agency benefits from our knowledge to substantially further mission-relevant programs.
For my fellowship, I am partnered with the Virginia Department of Environmental Quality and I divide my time between the Watershed Programs and Water Supply Planning offices. In Watersheds, my work focuses on the toxic chemical group of polychlorinated biphenyls (PCBs) in Virginia's waters. During the fellowship, I developed a project plan for collecting samples in a watershed, furthered the program's understanding of how to use statistical analyses to "fingerprint" PCBs to determine sources, and even went electroshocking for fish! Additionally, thanks to Virginia Sea Grant's Advanced Science Communication Seminar I created a whiteboard animation video that serves as an excellent primer on PCBs.
The Water Supply Planning program had a steeper learning curve because my knowledge of water supply policy was nil. So besides gaining a nuanced understanding of what water supply means in Virginia, I assisted localities in updating their water supply plans and I helped to reshape the new online reporting database, VA Hydro, to be more intuitive to both the state's water supply planners and the localities.
Unexpected opportunities arose as well. I worked with the Public Information Office to create a storymap celebrating the agency's 25thanniversary. There were also opportunities I turned down. Positions that interested me popped up multiple times, and on each occasion, I weighed the new position against the fellowship. On one hand, there was the appeal of a permanent position, but on the other I saw opportunity—to create novel outreach products, to participate in a D.C. policy excursion, to embark on informational interviews, and to see all that DEQ has to offer. I am confident I chose correctly.
The fellowship has exposed me to many years' worth of experiences within a single year. And for that, I am beyond grateful.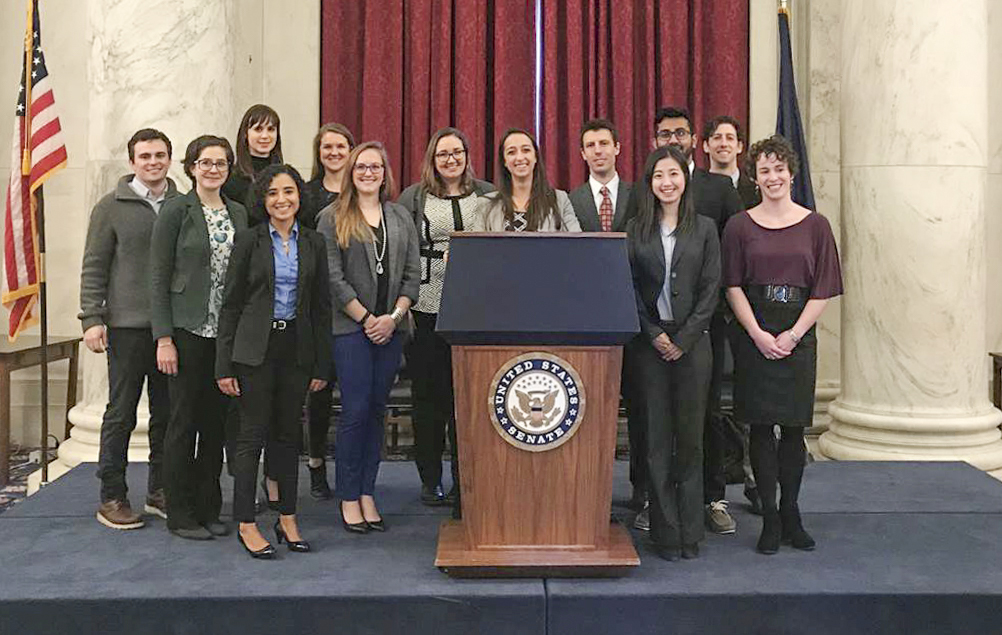 Above: Andrew (back row, far right) poses with the other students and fellows for a picture in front of the U.S. Senate podium during Virginia Sea Grant's D.C. Policy Field Excursion.