Above left to right: Nicki Gustafson, Shurui Zhang, Tiffany Birge

---
The Virginia Environmental Endowment and Virginia Sea Grant are pleased to announce three new Commonwealth Coastal & Marine Policy Fellows. These recent graduates will spend a year gaining experience in science policy and resource management.
"Now in its fourth year, the Commonwealth Coastal & Marine Policy Fellowship has advanced the career of recent architecture, policy, natural and marine science graduates from across the state," said Virginia Sea Grant Fellowship & Research Coordinator Sam Lake. "This fellowship gives them an unmatched opportunity to gain hands-on experience at the interface of science and policy at the state level."

Since its inception in 2017, the Commonwealth Coastal & Marine Policy Fellowship provides recent graduates with on-the-job training at a state agency or non-governmental organization, where they will learn about state-level policy and management processes. The fellowship also provides assistance to host offices on projects that advance the organizations' goals.
"VEE is pleased to have been part of the original supporters of the Commonwealth Fellowship in 2017 and to be a partner with Virginia Sea Grant and state agencies in continuing to give recent post-graduate students a real-life experience working at the intersection of science and policy in state natural resource agencies," said Joseph Maroon, executive director of VEE. "We are also encouraged to see that several of these very talented young people end up in state government positions where they can continue to make a difference."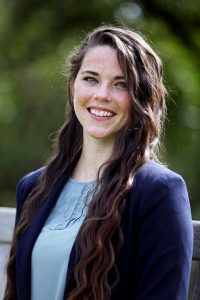 Tiffany Birge will be placed with the Virginia Marine Resource Commission to coordinate agency comments about projects activities that potentially affect marine fisheries and habitats. She will also help develop a process for online permitting for subaqueous tidal wetlands, beaches, and dune permits.
Birge graduated from Old Dominion University with a bachelor's in marine biology and a master's degree in biology, where she contributed to the Global Marine Species Assessment project. She developed extinction risk assessments, or Red Lists, for economically important forage fishes such as shad and herring. She also assisted with the annual blue crab winter dredge survey at the Virginia Institute of Marine Science. Habitat modification threatened some of the species Birge studied as a student, and she said she looks forward to learning more about the environmental assessment process as a fellow at VMRC.
"It will be neat to see how those assessments actually take place, and how we make sure they are environmentally and ecologically sustainable," Birge said.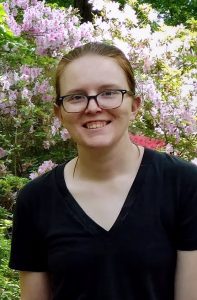 Nicki Gustafson will be placed with the Virginia Department of Environmental Quality, where she will work with the DEQ Watersheds Program to develop continuous monitoring methods for state waters with poor water quality.
After studying biology at the College of Wooster, Gustafson contracted with several conservation agencies, including the U.S. Fish and Wildlife Service, the Bureau of Land Management, and Hamilton County Park Service. In these roles, she monitored endangered lake suckers, conducted tree surveys looking for Emerald Ash Borer insects, and observed how community buy-in influenced the success of water management projects. She then earned a master's degree in biology at William & Mary, where she studied common milkweed pollination. She said she looks forward to working on water quality monitoring projects during her fellowship with the DEQ.
"I've done a lot of work collecting data and I was really interested in being more involved in what happens to the data after you collect collected and how these programs get designed," Gustafson said.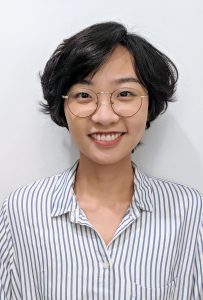 Shurui Zhang will be placed with the Office of the Secretary of Natural Resources, where she will support the Special Assistant to the Governor for Coastal Adaptation and Protection on the Commonwealth of Virginia Resilience Initiative.
Zhang graduated from the University of Virginia, where she earned a master's degree in architecture and landscape architecture. Her thesis project focused on regional resilience strategies for Virginia's Eastern Shore. Her project on "shared surfaces," which proposed adaptable, environmentally friendly urban spaces for Mumbai, was selected as a finalist for the Global Schindler Award, an international student design competition. She also served as a Virginia Sea Grant summer Coastal Adaptation and Protection Fellow, where she assisted with the early phases of assembling Virginia's master plan for coastal resilience.
"I am very interested in applying my knowledge as a designer to the larger discourse of coastal adaptation," Zhang said.