Virginia Sea Grant welcomes our new program reporting and project coordinator, Renee Sanders. Sanders will lead efforts for federal and state reporting and will assist with program operations through project management and grant administration support.
"Renee's prior experience as a wildlife biology specialist and a research assistant provides her the grant preparation, data analysis, and event planning expertise necessary for this position," VASG Associate Director Scott Sandridge said. "During her interview, Renee said that she wanted to get established in coastal Virginia and make a difference. We welcome the opportunity to help her channel that positive energy toward supporting VASG's mission."
Prior to joining Sea Grant, Sanders worked as wildlife biology specialist for the Sierra Institute for Community and Environment in California. There, she collaborated with biologists from the U.S. Forest Service to ascertain environmental impacts for restoration projects that mitigated wildfire severity and protected rural communities. For forest health improvement projects involving vegetation management techniques such as forest thinning or prescribed burning, she determined potential effects for sensitive, threatened, and endangered species like bald eagles, California spotted owls, and gray wolves. She also created all documentation required for wildlife under the National Environmental Policy Act.
Sanders earned a master's degree in Environmental Sciences and Policy from Northern Arizona University, where she reported impacts to biodiversity in eucalyptus plantations in the Pampas region of Argentina. Federal tax incentives in the 1990s that encouraged a domestic Argentine timber market created a boom in eucalyptus plantations, causing a change in land use from traditional annual crops that historically dominated the landscape to monoculture eucalyptus plantations. When comparing environmental impacts of historical land uses to eucalyptus, the plantations came at a cost to water resources and local wildlife. Based on the research, Sanders recommended incorporating patches of natural landscape within plantations to help conserve water and wildlife, while still supporting the timber market.
"The plantations created a timber market for the country that made forest products much more economical to purchase, but there are ecological ramifications for the region's savanna ecosystems," Sanders said. "Part of my work was letting people know what's happening with resources like wildlife and water quantity essentially providing them with the best available science to allow them to make informed decisions for their communities."
She also interned with the U.S. Fish and Wildlife Service while in Arizona, where she updated recovery plans for threatened and endangered species and documented progress for federal reporting requirements. As a research fellow at Arizona State University, she studied student attitudes toward designated wilderness areas. She also interned at a wildlife rehabilitation and conservation facility in the Sonoran Desert, where she provided day-to-day care for the rehabilitating wildlife and organized community events focused on conservation.
Sanders said she enjoys "being a voice for science," whether communicating science in casual conversation or through formal reporting.
"We go out and do the work, but we have to have a way to communicate that back, be it a required government report, or be it public outreach," Sanders said. "I strive to find ways to improve access to scientific information for the public."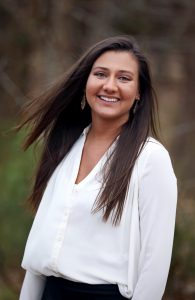 Photos by Aileen Devlin | Virginia Sea Grant
Published February 6, 2021.