Virginia Sea Grant welcomes Michelle Rodriguez. As the first professional development coordinator for VASG, Rodriguez will lead efforts to help graduate research fellows identify opportunities and accomplish their professional goals.
"Virginia Sea Grant invests in people, including the professional skills fellows need to be successful today and in five, 10, or 15 years from now," said Troy Hartley, director of VASG. "Michelle's unique skills and leadership abilities are perfect for VASG, and I am excited to see how she will grow our nationally recognized professional development programming."
As professional development coordinator, Rodriguez will organize the workshops, training, and networking opportunities offered to Virginia Sea Grant's fellows and evaluate the success of these professional development programs.
Rodriguez first became interested in working with college students while she was employed at a marketing firm that served clients in higher education. With this goal in mind, she earned a Master of Education, Counselor Education degree from Virginia Commonwealth University. While there, she served as an academic coach at VCU's Campus Learning Center, where she helped train tutors at the center and evaluated the success of the tutoring program.
"I'm a first-generation college student. I actually started at a community college, transferred into a four-year, and then I got my master's," Rodriguez said. "That's been helpful, just having a variety of experiences. I don't think anybody's career path is really linear."
After graduating, she was hired by Hampton University as the academic coordinator for the Ronald E. McNair Post-baccalaureate Achievement Program. The McNair Scholar program serves low-income, first-generation college students as they work toward a doctoral degree. As the only full-time McNair Program employee in the state of Virginia, Rodriguez helped a cohort of 25 Hampton University students create individual research plans and identify professional opportunities for research, internships, conferences, and workshops.
Rodriguez looks forward to enhancing the suite of professional development opportunities offered by Virginia Sea Grant and helping the graduate and postgraduate fellows determine and achieve their unique professional goals.
"Professional development is a broad term that means something different to different people," Rodriguez said. "For one person to become better developed in a professional sense, it might mean that they become a Toastmasters-level speaker, or for someone else, it might be an accomplishment that they just did a poster session at a conference."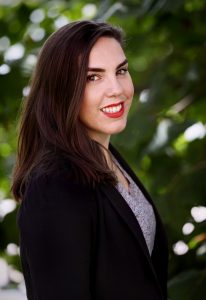 Photo by Aileen Devlin | Virginia Sea Grant
Published 08/23/2019