Above: In the field – Lauren Pudvah and Ben Nettleton.
---
Virginia Sea Grant (VASG), the Virginia Environmental Endowment (VEE), and the Virginia Institute of Marine Science (VIMS) are excited to announce the following two Commonwealth Coastal and Marine Policy Fellows.
Lauren Pudvah a Master's of Public Policy candidate at William & Mary has been matched with the Virginia Marine Resources Commission (VMRC), and Benjamin Nettleton a Master's of Biology candidate at Virginia Commonwealth University (VCU) has been matched with The Nature Conservancy's (TNC) Virginia Coastal Reserve.
The Commonwealth Coastal & Marine Policy Fellowship
The Commonwealth Coastal & Marine Policy Fellowship is sponsored by Virginia Sea Grant, Virginia Environmental Endowment, the Virginia Institute of Marine Science, and the participating host offices. Modeled after the highly successful national Sea Grant Knauss Marine Policy Fellowship, the goal of this fellowship is to develop and support exceptional post-graduates by partnering them with a host mentor where they receive on-the-job training and hone their professional skills while improving the stewardship of the Commonwealth's coastal and marine resources. The program also aims to increase the capacity of the host offices by supporting fellows who are working on mission-relevant programs and leveraging the knowledge and capacity of Virginia's academic institutions.
Virginia Marine Resources Commission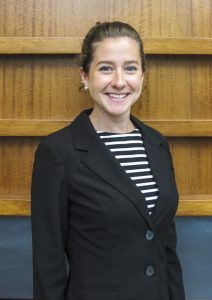 Pudvah who was a recipient of William and Mary's Outstanding Graduate Assistantship Award in the spring semester 2017 said of this opportunity, "I am excited about this fellowship because it provides a unique opportunity to develop and implement my policy knowledge in a professional atmosphere. I look forward to learning all about how VMRC is addressing and improving Virginia's coastal and marine resources." She has also completed a fisheries management internship with the Chesapeake Bay Foundation.
Commenting on the VMRC's opportunity to host Pudvah, Watkinson said, "As stewards of the Commonwealth's marine and aquatic resources the VMRC is often asked to comment on various environmental documents for proposed projects and provide information on potentially affected resources. Lauren will be responsible for developing standard review procedures for VMRC, including initial assessments and coordination of among agency divisions, developing reply templates and tracking comments. This effort will improve the marine-related information included in documents such as Environmental Assessments, Environmental Impact statements and Coastal Zone Management Consistency Determinations leading to better-informed resource management decisions."
Tony Watkinson, Chief of Habitat Management at VMRC is responsible for management of the state's marine conservation programs, state-owned water bottoms, tidal wetlands and coastal primary sand dunes. His department handles constituent requests to use state-owned water bottoms for piers, docks or marinas, as well as oyster ground leasing, channel dredging, or development of tidal wetlands or coastal primary sand dunes, and he will serve as Pudvah's mentor during her fellowship.
The Nature Conservancy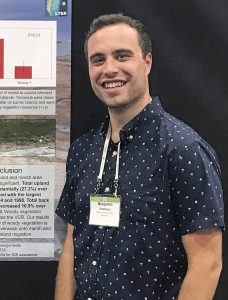 Ben Nettleton's Master's research has two components: one field experiment involving the manipulation of dune building grasses, and a remote sensing project aimed at quantifying landscape-scale changes at the Virginia Coast Reserve. Ben recently received the Outstanding Biology Masters Student in Ecology award at VCU. He is passionate about the restoration and conservation of natural resources and habitats.
Nettleton says, "This fellowship will provide me with a life-changing opportunity to explore the intersects of empirical science, public outreach, and policy. Over the course of the year, I expect to gain many new skills and professional connections that will propel my career toward future goals. I look forward to working with The Nature Conservancy to improve the understanding of our changing coastlines and help create more resilient communities on the Eastern Shore."
Cristina Carollo is Senior Coastal Scientist with TNC's Virginia Coast Reserve (VCR). She is responsible for their Coastal Resilience program which consists of customizing an online decision-support tool for the Eastern Shore of Virginia in response to local needs regarding flooding, storm surge, and sea-level rise; demonstrating how natural and nature-based features, such as oyster reefs and marshes, can increase the resilience of coastal communities; and engaging with local communities about local risk, vulnerabilities, and natural solutions as the first line of defense against flooding. Carollo says of Nettleton's fellowship, "With his interest in bridging science and policy, and his ability to communicate with different audiences, Ben will support The Nature Conservancy's Virginia Coast Reserve efforts to demonstrate and communicate the role of natural and nature-based solutions in supporting resilient coastal communities, including socio-economic benefits. This fellowship allows TNC to further the conservation of Virginia's coastal and marine resources while making the case for natural climate solutions as the adaptation strategy for resilient coastal communities."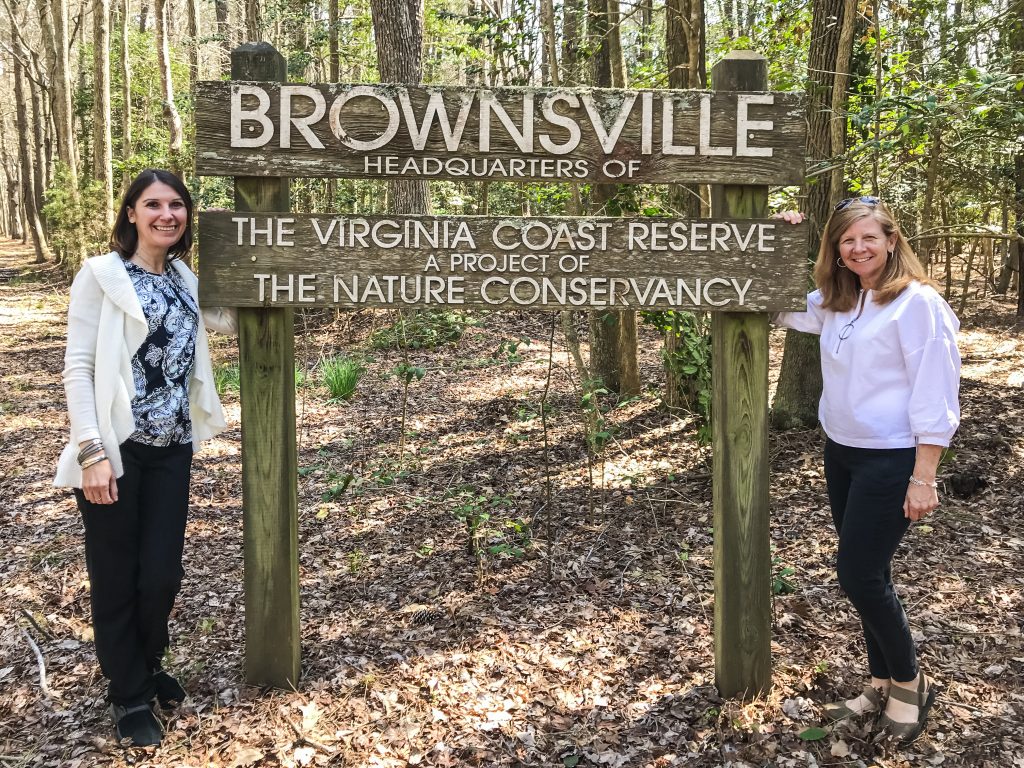 Above: Cristina Carollo (left) and Jill Beiri, director of the Virginia Coast Reserve, at the reserve.