Above left to right: Kaitlyn Clark, Saige Hill, Shannon Fluharty, Lauren Sommers
---
Virginia Sea Grant is pleased to announce a cohort of three graduate research fellows and an aquaculture graduate research fellow. These graduate students are addressing coastal and marine resource issues, in collaboration with their academic and professional mentors, to provide research results that are useful to a variety of stakeholders in Virginia.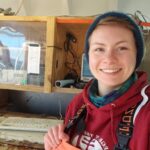 Kaitlyn Clark is a master's student at the Virginia Institute of Marine Science studying how population density affects sea scallop reproduction. She became interested in fisheries research as an undergraduate student at the College of the Atlantic in Maine, where she studied human ecology with a focus in marine biology. While collecting the oral histories of fishers in the marine worm industry, Clark became interested in the intersection of scientific research and commercial fisheries, particularly mollusks. For her fellowship research, Clark will focus on two densely populated areas of sea scallops, and whether these high-density areas could be effective as spawning reserves. She will collaborate with her professional mentor for the fellowship, Jonathon Peros, who serves as the scallop plan coordinator for the New England Fishery management Council, in order to inform future scallop harvest plans and connect with scallop managers and industry members.
"I think the fellowship is a really unique opportunity to develop a wide set of skills, especially around science communication and networking," Clark said.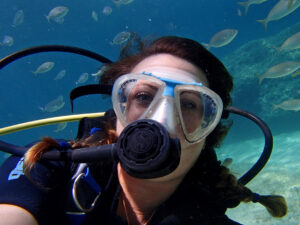 Shannon Fluharty is a master's student in Virginia Tech's Department of Agriculture and Applied Economics. For her fellowship research, Fluharty will create a survey that evaluates public preference for combining compatible marine activities on offshore wind leases. Previously, Fluharty worked as an environmental scientist for a consulting firm in Richmond after studying environmental and organismal biology at Christopher Newport University. She became interested in applied economics as a tool to communicate the importance of environmental issues. Fluharty will design and conduct a survey in Virginia about coupling offshore wind with activities such as aquaculture, habitat preservation, research, or recreational use. Fluharty will collaborate her professional mentor, Aquaculture Systems and Ecology Branch Chief Lisa Milke at the NOAA Northeast Fisheries Science Center, during Fluharty's VASG-NEFSC Aquaculture Graduate Research Fellowship.
"I like fisheries and aquaculture, so I'm excited for the fellowship and working with people who have experience in the industry," Fluharty said. "I'm hoping to make a shift toward that industry once I'm done with my degree."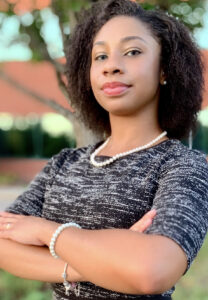 Saige Hill studies evacuation behaviors and risk perceptions of college students in coastal communities as a Ph.D. student in Old Dominion University's Public Administration and Policy program. As a native of Hampton Roads, Hill is familiar with flooding challenges and has observed local attitudes toward flooding firsthand. She became interested in emergency management after seeing student reactions to flooding on ODU's campus while studying communications and psychology as an undergraduate. She then earned her Master in Public Administration at ODU. Hill was nominated to serve as a public delegate to the United Nations commission on the status of women in 2015, and presented at a White House listening session about campus sexual assault prevention in 2014. She also worked as a student services specialist at Eastern Virginia Medical School after graduation. As part of her fellowship, Hill will collaborate with ODU Director of Emergency Management Jared Hoernig to develop communication products for student evacuation and a report for emergency management professionals based on her research.
"I'm really excited for this opportunity," Hill said. "It will be nice to work with my mentors one-on-one and get that emergency management experience in a college setting."
Lauren Sommers studies coastal engineering as a Ph.D. student in Old Dominion University's Department of Civil and Environmental Engineering. Her research focuses on the effect of sea level rise on coastal sediment transport in the Hampton Roads area. The model she develops will identify areas where sediment is accumulating and eroding. She developed an interest in coastal dynamics while observing wave dynamics and sediment transport as a long-distance, open-water swimmer. Prior to the fellowship, she completed a master's degree in oceanography at ODU, and studied mathematics and watershed science as an undergraduate at California State University-Monterey Bay. She will collaborate with her professional mentor for the fellowship, Dewberry Senior Coastal Scientist Brian Batten, to ensure the model is helpful for local and regional planners.
"I'm excited to see that bridge between academia and industry, and I think Sea Grant can really help with that," Sommers said.