Virginia Sea Grant welcomes Julia Hathaway, a postdoctoral researcher with the Alan Alda Center for Communicating Science® and Virginia Sea Grant.
Hathaway recently earned her Ph.D. in Communication from George Mason University, where she conducted research based in social identity theory—how identification with social groups affects people's attitudes and behaviors—can be applied to improve climate change communication.
In her current role with the Alda Center and Virginia Sea Grant, Hathaway will become a certified facilitator in the Alda Method®, which teaches effective communication through improvisational theater techniques and the power of storytelling. Hathaway will specialize in message design. The message design component of training focuses on identifying the needs of an audience, practicing empathy to make genuine connections, and using clear, vivid language.
"Virginia Sea Grant is excited to partner with the Alan Alda Center for Communicating Science to work toward a shared goal of enabling Virginia's researchers and managers to better communicate their science, particularly around climate issues," said Troy Hartley, director of Virginia Sea Grant.
Hathaway has spent much of her career in various science policy roles. She has served as a staff member for Florida Congressional delegation members, representative Harry Johnston and senator Bob Graham, where she was in frequent contact with scientists studying the Everglades.
"I loved being at that interface," Hathaway said. "I really liked talking to scientists, reviewing the information, and turning that into policy recommendations."
She also served as a legislative specialist for the U.S. Fish and Wildlife Service and as legislative director for the Ocean Conservancy. She later served as legislative staff for the Committee on Natural Resources in the U.S. House of Representatives. She then returned to Florida, where she worked as a grassroots organizer for the Sierra Club, launching environmental justice initiatives.
"I've been at the table and sat in different chairs," Hathaway said. "I've been the one asking the questions, the one asking for action, and the one bringing other people to the table."
She holds a bachelor's degree in communication from the George Washington University, and a master's of environmental management from the Yale School of Forestry and Environmental Studies. She credits her love of the environment to the time she spent outdoors growing up in Florida, and through the influence of her father, an avid gardener.
"He was always dragging us outside to see the beautiful treefrog stuck to the lamp post in the front yard, that kind of thing," Hathaway said.
She first found out about the Alan Alda Center for Communicating Science through Virginia Sea Grant's 2018 Graduate Symposium. As a part of her position, she will co-facilitate Alda workshops and also assist a team of researchers to assess the effectiveness the Alda Method®.
"Julia's impressive background in climate communication will be a tremendous asset to Virginia Sea Grant and the Alan Alda Center for Communicating Science as we work together to build capacity among today's and tomorrow's leaders in coastal and marine science and technologies, resource management, and policy," Hartley said.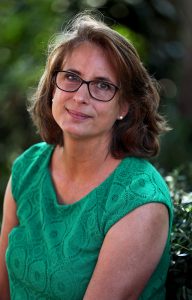 Photos by Aileen Devlin | Virginia Sea Grant
Published 09/18/2019